All patients receive individualized investigational TIL therapy
Every patient who meets eligibility criteria and enrolls in an Iovance clinical trial will receive individualized investigational TIL therapy made from their own immune cells. There are no placebo arms. In trials where we are exploring combination treatments, every patient will receive their individualized cell therapy as part of the combination. Trial medication and trial-related care are provided at no cost.
To learn more, please call 1-866-565-4410 or email clinical.inquiries@iovance.com.
About investigational TIL therapy
TIL are naturally occurring white blood cells that fight cancer and are usually found in tumors or lymph nodes. When healthy and plentiful, TIL recognize, attack and kill cancer cells. TIL therapy is being investigated in solid tumors. In investigational TIL therapy, a patient's naturally occurring TIL are harvested, multiplied into the billions and administered back to the patient as a one-time treatment.
Clinical trials in solid tumors
Clinical trials in blood cancers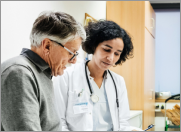 Chronic Lymphocytic Leukemia (CLL) and Small Lymphocytic Lymphoma (SLL)
CLL and SLL are two types of blood cancer that primarily impact older adults. While both CLL and SLL affect lymphocytes, the cancers for each type are found in different sites: in CLL, the blood and bone marrow; in SLL, the lymph nodes. More than 20,000 people in the US are diagnosed with CLL or SLL each year.2 The disease is considered relapsed when it returns after a period of remission and refractory when it does not respond to treatment.
IOV-CLL-01 trial overview
Iovance is conducting a Phase 1/2 trial to evaluate the safety and efficacy of autologous PBL therapy in patients with relapsed or refractory CLL or SLL.
References: 1. IHME: Global Health Data Exchange. Seattle, WA: Institute. For Health Metrics and Evaluation; 2022. https://ghdx.healthdata.org/gbd-results-tool. Accessed April 11, 2022. 2. NCI: Surveillance, Epidemiology, and End Results Program. Bethesda, MD: National Cancer Institute; Updated February 2022. https://seer.cancer.gov/statfacts. Accessed April 11, 2022. 3. ASCO: Cancer.Net. Alexandria, VA: American Society of Clinical Oncology; 2022. https://www.cancer.net. Accessed May 31, 2022.
TIL and PBL therapies are investigational therapies and have not been approved for any indication by the Food and Drug Administration (FDA) or any other regulatory agency. The safety and efficacy of these therapies have not been determined.